ItaliaImballaggio November-December 2023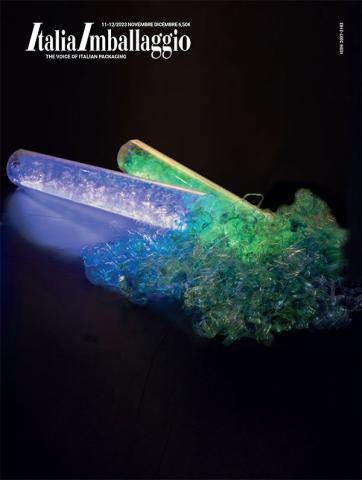 Acceleration
editorial by Stefano Lavorini
Behind the cover
Pina Inferrera . Crossing in water, 1998-2018
OPINIONS
Updates in Packaging Regulation - A comment by Francesca Stevens, Europen
Memorandum
Milano Beauty Week, Anuga, Cibus Tec
Agenda
Pharmintech 2025, IPACK-IMA
[ TALKING ABOUT... ]
SUSTAINABILITY
Over to… Ferrarelle. A leading beverage company talks of consumer trends, technical innovation, packaging design and recycling.
CONSUMPTION AND LYFESTYLES
Italians: poorer, but… still untroubled. From the Coop 2023 Report: The high cost of living is reducing consumption and forcing Italians to make new sacrifices. But we still remain optimistic.
[ MARKETING & DESIGN ]
Embellishment is sustainable because… (Luxoro, Gruppo Kurz)
30 Tube of the Year 2023
Ecodesign of cosmetics packaging (Cosmetica Italia, Aliplast)
A circular solution for packaging doughnuts (Metsä Board)
News (Berlin Packaging)
[ FACTS & FIGURES ]
Glass packaging
Flexible packaging for converting
[ INDUSTRY & MANAGEMENT ]
Heirs of a tradition. Postcard from Pianezze (VI). The 70th anniversary of Lucaprint's foundation
CMP Phar.ma opens a new factory (Marchesini Group)
Cybersecurity: let's take stock with Red Hot Cyber
Innova Group flies at +52% in 2022
MATERIALS & MACHINERY
Food & Beverage
Disposable aluminium for food delivery (Contital)
RePETableTM faciltates the transition to rPET (Sidel)
Multimarket
Printing and laminating. Being different, in practice (Sun Chemical, Remac)
The strength of natural glues (Menichetti)
LABELING & CODING
News (Tenenga, TSC Printronix Auto ID)
AUTOMATION & CONTROLS
Digitisation: what's in store?
News (Oriental Motor, Servotecnica)
COMPONENTS & OTHER EQUIPMENT
Vision: high-performing adhesive melter (Robatech)
Ultrasonic sealing for bio-based plastics (Emerson)
END OF LINE & HANDLING